"Practical and realistic, yet free of moral compromise. . . Making Abortion Rare will accomplish what its title claims--and much more . . . . Brilliant."

-- Rev. Paul Marx, Founder of Human Life International

Making Abortion Rare (and we mean very rare) has inspired a whole new direction for many pro-life activists. Many national, state, and local pro-life groups are now shifting gears to use the strategies outlined in this book.
Now, you can get it get it here -- FREE.
Major organizations like Focus on the Family, Human Life International, Christian Coalition, and the Conservative Book Club have offered Making Abortion Rare as a select or highly recommended book to their supporters.
The reviewer for the Christian Booksellers Association describes it as "fascinating and convincing . . . the 'can't miss' book of the next few years."
That's actually faint praise compared to comments by these pro-life leaders: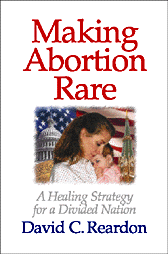 "David Reardon has shown a rare grasp of the current dynamics of the abortion controversy as it is today. His analysis and suggested pro-life strategy are right on the mark."--Jack Willke, M.D., Pres., International Right to Life Federation


"This is exactly what women who have had abortions have been wanting to hear . . . I pray that this book will be widely read. It provides us with the road map to a kinder and gentler pro-life movement, one that will achieve far more, far more quickly, than we have ever achieved in the past."--Nancyjo Mann, Founder, Women Exploited by Abortion


"Under the old rules of the abortion debate, where the rights of women and the unborn were in opposition, there was no room for agreement. But Reardon has changed the rules . . . From this point on, the abortion debate will never be the same."--Mark Crutcher, Pres., Life Dynamics


Reardon's imaginative informed consent law can only be opposed by those who seek to protect abortion profiteers at the expense of women."--Hon. Robert G. Marshall, Virginia General Assembly


"Making Abortion Rare is forward thinking in its vision and recommendations, and rightfully reconnects the pro-woman cause with the pro-life message.... The author bears a deep commitment to and compassion for women"--Gracie Hsu, Family Research Council

What's all the fuss about? Finally we have a realistic strategy for truly bringing an end to abortion in America.
Best of all, this approach doesn't stop with shutting down dangerous abortion mills. It will also work against illegal abortionists, self-abortion promoters, and the onslaught of abortion drugs like RU-486.

This approach doesn't rely on politics . . .
but it will transform the politics of abortion.
It doesn't rely on the Supreme Court to overturn Roe v Wade. But, in the end, it will help to ensure that too will happen.
It doesn't rely on a constitutional amendment. But it will pave the way for a Human Life Amendment after abortion has been stopped.
In brief, Making Abortion Rare, is the first and only pro-life strategy that dovetails all aspects of pro-life work--pastoral, political, educational, and service--into one winning combination.
It shows why and how we can:
convince the public that abortion hurts women far more than it helps them;


require a simple screening process that will prevent 70% of all abortions;


use understanding and compassion to promote more post-abortion healing;


reawaken the "mushy middle's" concern for unborn babies by properly elevating their concern for the mothers of these children;


break the silence about abortion in our churches;


make abortionists fully liable for all of the physical, psychological, and social suffering caused by abortion.


and much more....

This is the key to our short-term victory . . .
When abortionists are finally held properly liable for abortion injuries, their clinics will close--because abortion is inherently dangerous to women . . . and the abortionists know it.
But this book is also a blueprint for our long-term victory. It shows how we can create a society where abortion is not only illegal, but it is also unthinkable. A society where no woman would want an abortion any more than she would want lung cancer. A society where no loving parent or boyfriend would be so foolish as to encourage a young girl to have an abortion because they will know that it will destroy her, not help her.
This plan is not difficult, expensive, or hard. Instead, as one reviewer said, it is a "lesson in cultural judo" that turns the momentum of concern for women's rights to our advantage.
The Elliot Institute is on the forefront of carrying out this pro-woman/pro-life strategy. Since 1988, we have been "behind the scenes" serving, advising, and helping pro-life groups around the country to develop and implement this strategy.
Now you can learn the details and reasoning that underlie this pro-woman/pro-life strategy. Just fill in the form below to receive your own free e-book edition of Making Abortion Rare. Your email will not be sold or shared with others, and you may opt out of our list at any time.
---

See Resources for additional books by the same author.